(Disclosure: this post contains affiliate links from which I make a few pennies if you make a purchase from the linked sites.)
This month I am focusing on how to upcycle our trash into useful, practical items around the house. In doing all of these home improvement projects I've noticed that we go through alot of paint stir sticks.
There are alot of projects on how to use pristine, unused paint stirrers to create DIY projects but what about USED wood paint stirrers?
We recently started staining our backyard fence with Thompson's Water Seal Waterproofing Stain – Solid in Acorn Brown and I was using paint stir sticks to mix the various jugs of stain so we'd get an even color across the 40 foot fence.
The color on the stir sticks looked amazing!
Could it be possible to upcycle these paint stirrers into something practical? That's when it hit me: How to upcycle paint stirrers into garden markers.
The supplies you'll need to create these upcycled garden markers are readily available at your local hardware and crafts stores:
If you aren't staining your fence, you might not have used stained
paint stirrers
.
Maybe your paint stirrers have paint on them. Save up your paint stirrers, no matter the color, and make plant markers, signs, arrows or other projects with them.
The idea is to make something useful from something you normally would have thrown away.
In the video I created, I apply the stain directly to the stir sticks just to demonstrate how easy the color goes on. Also, I only have 2 paint stirrers from my backyard fence project that had been used and I am growing way more than 2 plants in my garden this year.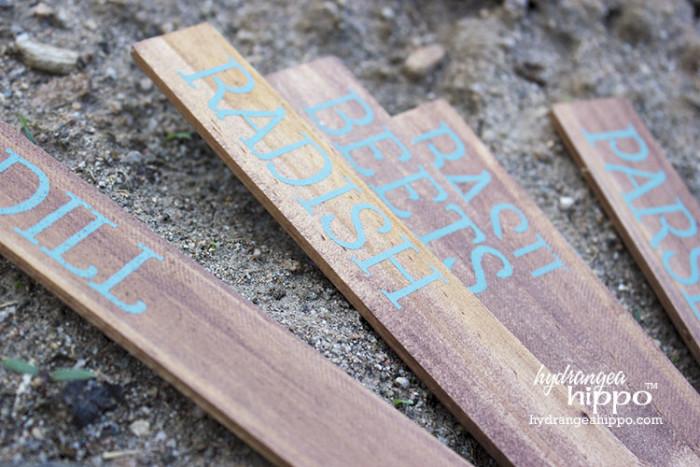 You can use stir sticks that have been saved from multiple projects or even cut sticks from scrap wood to increase the upcycle factor on this project. Here are my garden markers in action:
I'm good at growing lettuce AND weeds. What can I say?
Most of these links go to amazon because it's just so convenient to order from them. You'll be able to make your own garden markers in no time!